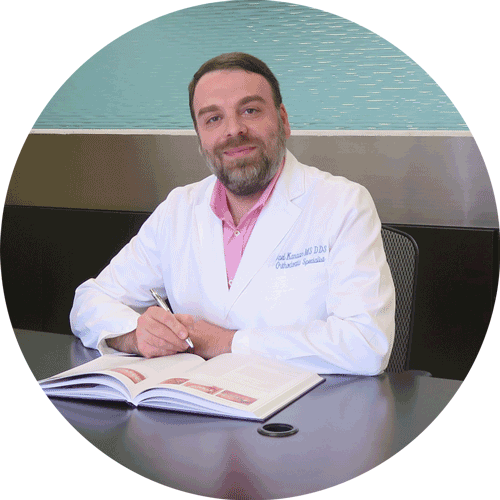 Best Orthodontist In Houston Dr. Kanaan  
Choosing an orthodontist in a city with more than 100 orthodontists should not be hard.
But finding an orthodontist specialist who can resolve your complex case to get the best beautiful smile at the most economical price is not easy!
Dr. Kanaan is a local Houston orthodontist with additional training to treat complex cases.
This includes patients that require dental implants, surgery for impacted teeth, cleft lip and palate, and other special cases. 
You will always receive the highest quality of dental care no matter your case! 
| | |
| --- | --- |
| | Learn why other dentists and Orthodontists refer to Dr. Kanaan |
Non-Surgical open bite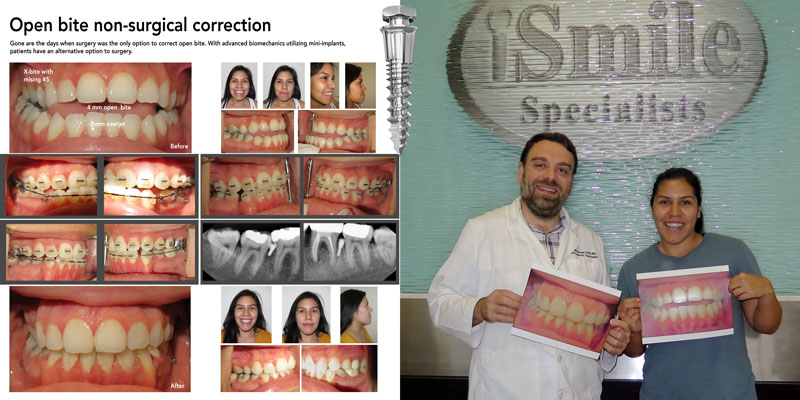 Correcting severe open bite without surgery using mini implants. Click here for more information.
Non-Surgical Underbite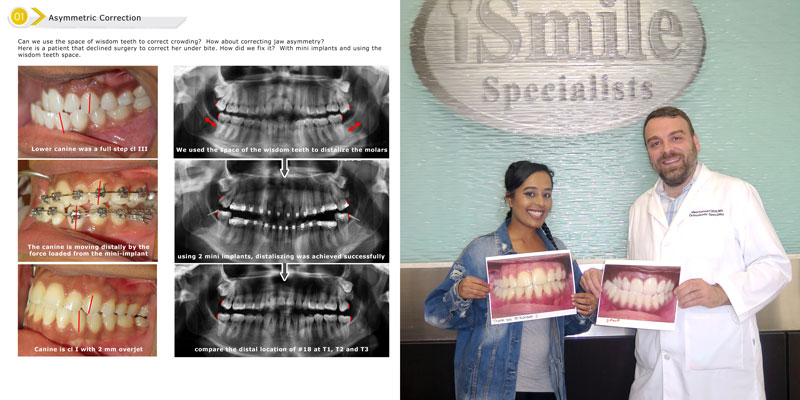 As seen on TV!  Yes, you don't need to break your jaw to fix your underbite.
Breath better with braces!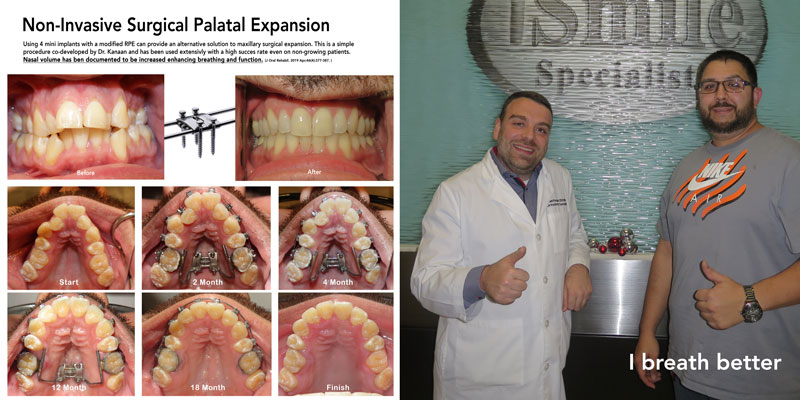 Dr. Kanaan patented appliance can correct your narrow jaw non-surgically
Impacted teeth correction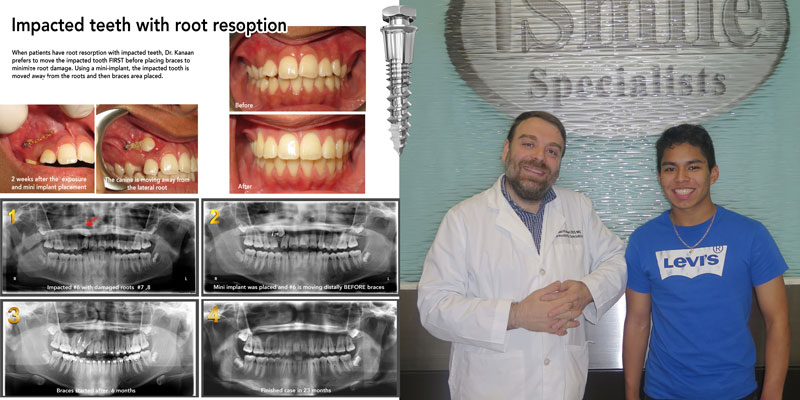 Save at least 12 months with this new technique if you have an Impacted tooth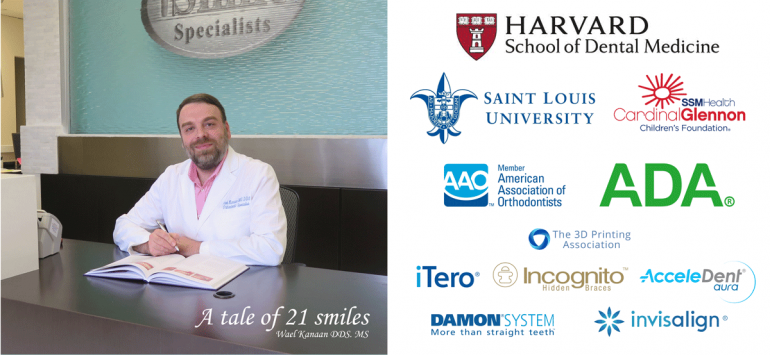 Dr. Kanaan Education: Orthodontist in Sugar Land
Dr. Kanaan completed a mini-residency program at Harvard Dental school in 2002 and graduated from St. Louis University in 2005 with a Master's degree in Orthodontics.
He has been an active member of the American Association of Orthodontist AAO since 2003. For more information about Dr. Kanaan, please click here.
How to Choose an Orthodontist
Consider the experience and reputation when choosing an orthodontist in Sugar Land and Houston. Evaluate the technology used and treatment options offered by them. Look for insurance acceptance and affordable costs before scheduling a consultation.
Make sure you see an orthodontist specialist (REF)
with at least 10 years of experience
certified in the latest state-of-the-art technology such as MARPE and TADs
use digital 3D X-rays and scans
Active member of the American Association of Orthodontist AAO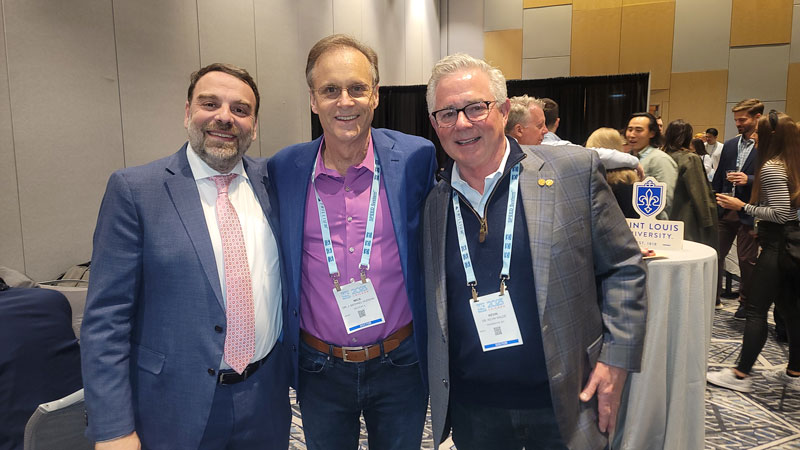 Affordable Orthodontic Care in TX
Caring for your teeth shouldn't break the bank. Choose a wonderful doctor with years of experience providing excellent service in Sugar Land and the surrounding areas. Our orthodontic office offers free consultations and customized treatment plans using state-of-the-art technology.
---
Your First Orthodontic Visit
During your first visit to a caring Sugar Land orthodontist office with years of experience in orthodontic work, you'll have a chance to discuss your concerns and goals in a free consultation. Expect a comprehensive examination of your teeth, bite, and jaw using state-of-the-art diagnostic tests like X-rays. Your wonderful doctor will explain recommended treatment plans for your new smile.
We treat ALL cases to the standards of the American Board of Orthodontics. 
Please take the time to look at our work before making a decision. "A picture is always worth a thousand words".
Please notice the quality of our orthodontic care and the end results.  
Dr. Kanaan is certified to provide different treatment options to get your teeth straight. This includes Metal Braces, Clear Braces, Gold Braces, Invisalign, Invisalign Teen, Fast Braces, Damon braces, Lingual Incognito Braces, and Custom Braces.  
How much do braces cost?   
Four factors will affect how much your orthodontic treatment will cost.   
The type of braces: Incognito hidden braces are the most expensive and will cost you around $14,000 compared to traditional braces which will cost around $4,500. (REF)  
The length of the treatment: 12 months cases or phase I usually cost half of the regular cases.  
Age of the patient: We treat patients of all ages. Adult cases usually cost 16% more compared to adolescent cases.   
Dental insurance benefit: If you have dental insurance that you got from an employer with orthodontic benefits, then you might save between $1000 to $3000 based on your benefit plan.  
Click here to e-mail us your pictures to our Houston orthodontist [email protected] and we will send you an estimate.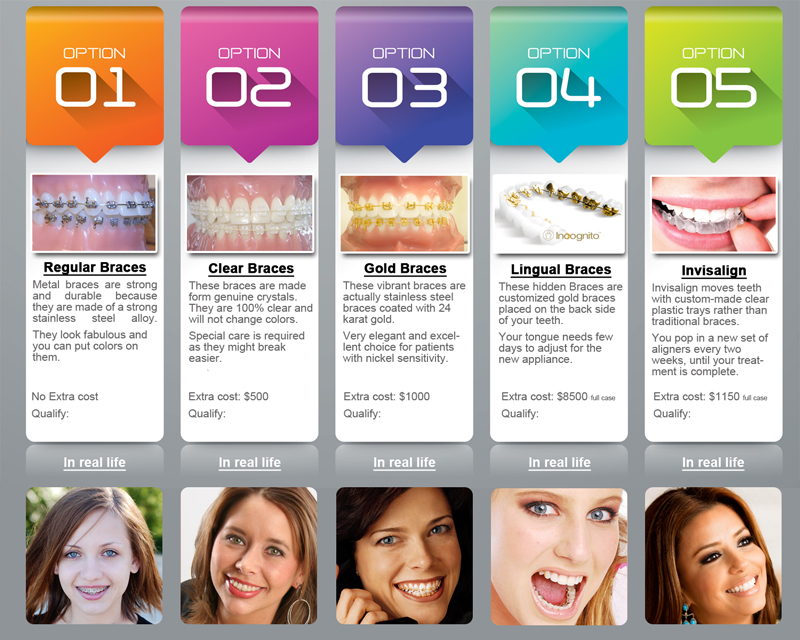 ---
What is the process to get braces?
During the initial consultation, we will take some pictures and X-rays. Dr. Kanaan will perform a visual exam and he might ask for a 3D X-ray which will be taken at our office.  
Your teeth have to be clean and cavity-free. If you need teeth cleaning, we will refer you back to your dentist.
We also have our awesome hygienist to do a professional cleaning for you. 
Dr. Kanaan can place your braces the same day if you choose Metal, clear or gold braces.
If you choose Invisalign or Incognito, then it takes 2-3 weeks to have them back.  
If you live in Houston TX, West Houston, Sugar Land, or you are looking for an "orthodontist near me",  please call  iSmile Specialists for a consultation with Dr. Kanaan 
Straightening Teeth in Houston
Caring orthodontic work in Houston doesn't get any better than at our clinic. With years of experience, state-of-the-art dentistry, and wonderful doctors, we provide patients with clear aligners, braces, and custom retainers. Book your next appointment and discover the benefits of a new smile.
Solutions for Common Orthodontic Problems
Retainers and braces are the solutions for common orthodontic problems. You can choose from wire retainers, acrylic retainers at our Sugar Land orthodontist office near Houston to fix specific issues like overbite or underbite. Get customized treatment plans at your free consultation with our caring team of experienced professionals.

Customized Retainer Options
Retainers play a crucial role in orthodontic work. They ensure comfortable fitting and come in different types like Hawley, Essix, and bonded retainers. Proper maintenance is vital for good oral hygiene and prolonging its lifespan. Get a free consultation from the best Sugar Land orthodontist today!
Orthodontics and Dentistry
Retainers are essential for maintaining orthodontic work and providing excellent care for patients of all ages. Customized retainers, such as clear aligners or wire retainers, offer better results than standard ones. An experienced Sugar Land orthodontist can recommend treatment plans that suit your lifestyle.
FAQ
What are some common orthodontic issues that can be addressed by an orthodontist?
Orthodontists can address common dental issues such as crowding, spacing, and bite problems. Other concerns like crooked teeth, overbite, underbite, and crossbite can also be treated with braces, aligners, retainers, and other appliances. Early treatment can prevent future dental issues from becoming more severe.
How long does the treatment process typically take for orthodontic procedures?
The duration of orthodontic treatment varies depending on how severe the issue is, but it typically takes 18 months to 3 years. Orthodontic treatments may include braces, clear aligners, or other appliances. Regular check-ups with your orthodontist are crucial for tracking progress and making necessary adjustments to ensure successful treatment.
What are the different types of braces available in dentistry, and which is best for me?
There are various types of braces available, including metal braces, ceramic braces, lingual braces, and clear aligners. Each type has its pros and cons depending on individual preferences and treatment goals. While metal braces are affordable but visible, clear aligners like Invisalign are inconspicuous but may not be suitable for complicated cases. Therefore, consult with an orthodontist to determine the best option for your specific needs.
How can I maintain good oral hygiene while undergoing orthodontic treatment?
Maintaining good oral hygiene during orthodontic treatment involves regular brushing and flossing, using special tools to clean around brackets and wires, and limiting sugary foods and drinks. Fluoride mouthwash can help prevent cavities, and regular check-ups with your orthodontist are essential for adjustments and overall dental health.