Affordable Gold Braces Houston TX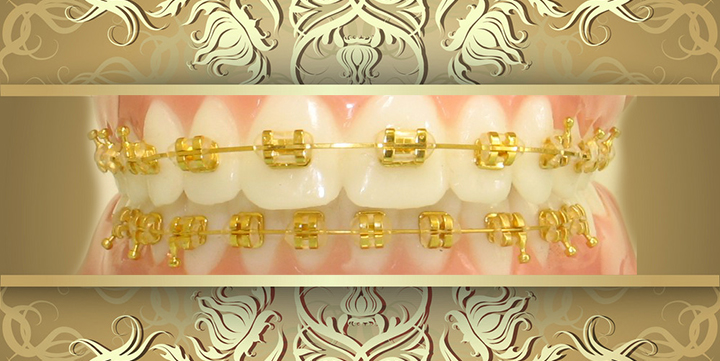 Why should I get Gold Braces? 
There are a few types of orthodontic options when it comes to considering braces. If you are looking for Gold braces in the greater Houston area, we are the only office that offers these magnificence braces to our patients.
Not everyone will appreciate these braces that will help straighten their teeth. That is until you see them on you!
They are magic and a symbol of power and stand out in comparison to silver braces.
Dr. Kanaan developed a line of Gold braces in 2006 for his patients with a nickel allergy. They are actually high-grade stainless steel braces coated with 24-karat gold. They have been very popular with patients of any age.
They are an excellent choice for a patient with nickel sensitivity. 

These braces maintain most of their shininess and glory during the treatment
We also have the Gold accessories that go with them such as Gold wires, Gold elastics, Gold retainers, Gold hooks, etc... 
The gold brackets and wires are traditional stainless steel gold plated. Matching gold-colored rubber bands make these an elegant and noticeable combination.  
Gold braces at iSmile Specialists are affordable and will cost you $500 extra if you start braces with us. 
Call us today at 281-249-9999 to schedule your Free Consultation!

---
We also provide the option of Gold Hawley retainers. Patients always get compliments while wearing these retainers.
How much extra is the Gold Hawley retainer? If you get the Gold braces at iSmile Specialists, we will not charge you extra for the gold one. If want to buy the retainer alone, it is $400 each.