Dental Implants In Houston and Sugar Land, TX


---
Introduction
Dental implants are the ultimate solution for missing teeth, but they can be costly. iSmile Specialists presents an affordable alternative for Houston residents seeking quality dental implants. Dr. Samo is our experienced implant specialist with over 10000 implants placed, with individualized and focused care to patients, ensuring the long-term success of their dental implant procedure. 
What are Dental Implants?
A dental implant is a small titanium screw placed into the jawbone of a missing tooth to provide support for a new crown that looks like a natural tooth. If placed and maintained correctly, they have a success rate of 98.5%. (REF).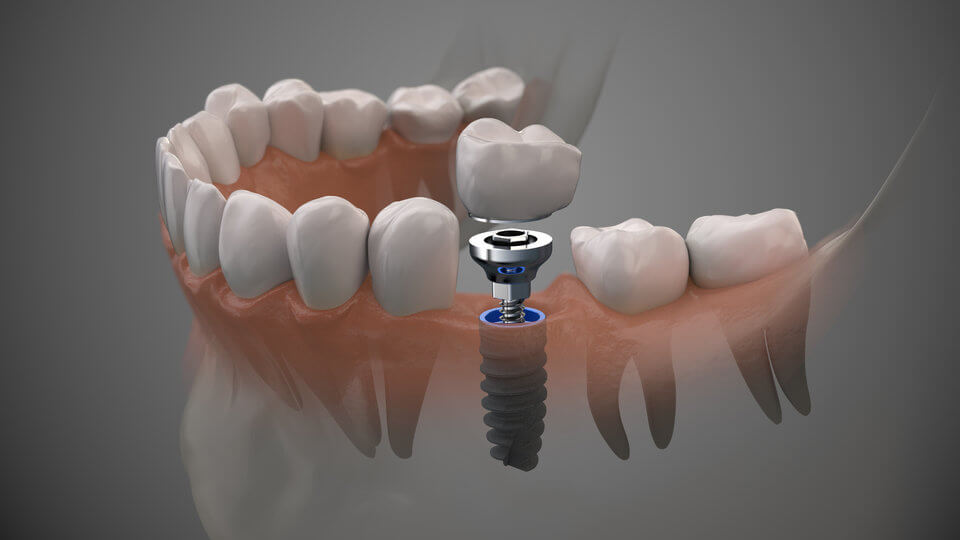 You will be surprised to know that the history of dental implants goes back to the Mayan population (REF) 600 AD where they placed successfully carved shells to replace missing teeth. However, it was not until 1978 when Dr. Branemark discovered that titanium metal can fuse to the bone and he successfully established a protocol to place dental implants.
The Benefits of Dental Implants
Dental implants offer numerous benefits for those with missing teeth.
Unlike dentures, implants are stable and allow for confident eating and speaking.
They also stimulate bone growth, maintaining the structure of the jawbone and facial features.
Improve oral health and prevent further loss of healthy teeth by supporting the adjacent healthy teeth.
Improve speech and self-confidence
The ability to eat your favorite foods, whether soft foods or hard foods.
Unlike dental bridges, there is no need to shave the adjacent teeth to provide support for the new teeth.
With proper care, dental implants can last a lifetime, providing an improved overall quality of life.
Do NOT wait to replace your missing tooth. The more you wait, the more bone you will lose. (REF)
---
How much does a tooth implant cost in Houston?
If you're looking for affordable dental implants in Houston, iSmile Specialists is your go-to clinic. Dr. Samo is a well-recognized Implant surgeon utilizing his non-invasive technique. This technique will allow fewer complications, faster recovery time, minimal sedation, and minimal swelling and discomfort.
Our experienced team uses the latest technology and techniques to ensure a comfortable and safe experience for our patients. We understand that the cost of dental implants can be prohibitive for many, which is why we offer financing options to make treatment accessible for everyone.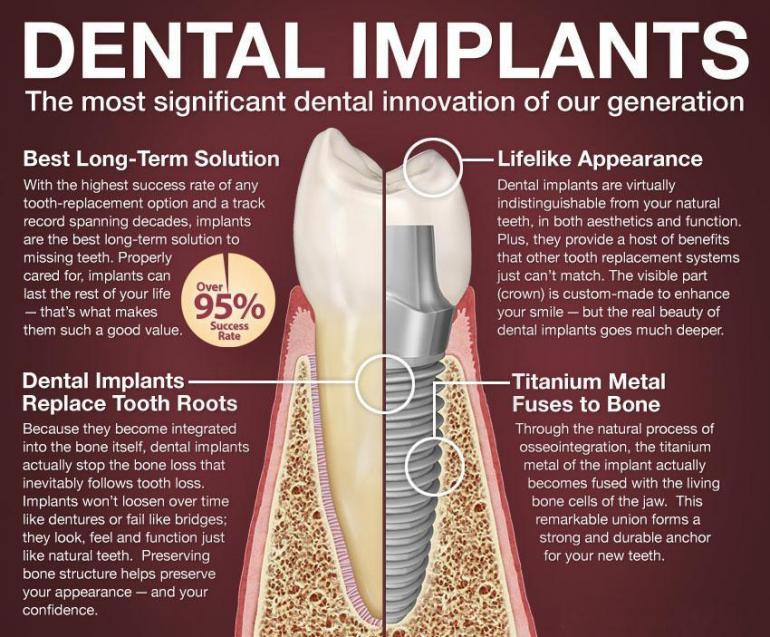 ---
Dental Implant Procedure at iSmile Specialists
The dental implant procedure is a four-step process that requires careful planning and execution. During the initial consultation, Dr. Samo will take a 3D x-ray to assess your bone size and shape and make sure a dental implant is the right option for you. Once he creates a personalized treatment plan, he will place the implant into your jawbone and allow it to fuse with the bone over time. Afterward, a restoration will be placed on top of the implant to complete the process.
   1. Consultation and Planning
This first step is important to determine your eligibility to get a dental implant. Before undergoing a dental implant procedure, it is essential to have a consultation and planning session with your dentist. During this phase, the dentist will evaluate your oral health and assess whether you are a suitable candidate for dental implants. They may also take X-rays and 3D scans to ensure that the implant placement will be successful. Furthermore, the dentist will discuss your treatment options, including the type of implant, materials used, and cost, to create a customized treatment plan based on your unique needs and goals. This process ensures that you receive personalized care that maximizes your chances of successful dental implant surgery.
   2.Implant Placement
The second step is the actual surgical procedure to get the implant screw inside the jawbone. Based on your case, there are two techniques to place the dental implant:
Non-invasive technique: There is no need to cut the gum tissue to place the implant. Using a special guide, Dr. Samo will place the implant through your gum into the bone. This technique is faster and fewer complications and swelling.
Minimal-invasive technique: This is the traditional technique where the specialist has to cut the gum and expose the bone to place the implant.
After placing the implant, it will be covered with an implant screw over. It will take 4-5 months for the jawbone to fuse to the implant in a process called osseointegration. Once the implant is accepted by your body, you will be ready for the third step
   3.Osseointegration and Abutment Placement
Using a state-of-the-art equipment, Dr. Samo will test the implant to determine its successful adhesion to the bone. Then a small screw is placed on the implant so the gum can heal around the implants into the final shape. This special screw is called a healing abutment.
   4.Crown impression and Placement
The final step in the dental implant procedure is crown impression. This could be done with a digital 3D scanner or with a traditional impression. The lab with the help of the AI computer will make the custom-made crown with a the abutment. The Lab will personalize the color of the crown to match your existing natural teeth.
Dr. samo will use a special Implant adhesive to cement the implant crown.
   5.Enjoy your food 😋!
MAINTAINING THE HEALTH OF IMPLANT SOFT TISSUE is very important. This is the responsibility of the patient to prevent plaque/calculus accumulation.
---
Do You Need Implants, Bridges or a Denture?
Dental implants are a long-term dental solution that utilizes an artificial tooth to perfectly replace and match your natural missing teeth. Implants are now the preferred choice to replace missing teeth compared to removable dentures.
The cost of a dental implant procedure is going to be different for each patient. There are many elements that need to be considered in determining the final expenses.
Dental Implant procedures should be performed only by a well-trained doctor with extensive experience and high success rates. 
This is why it is important to choose the right dentist that will give you effective dental work, and results.
Dr. Samo is our cosmetic dental specialist with years of experience and knowledge. He will thoroughly construct a treatment plan designed especially for your individual needs and really takes the time to address all the concerns related to your oral health. 
---
What is dental implant cost near me?
Your location plays an important factor in determining how much your dental implant will cost. In a large city like Houston, the majority of dentists in Houston charge more than $4,000 and can get as high as $7,000 for a single tooth implant.
Understanding the Cost of Dental Implants in Houston
When it comes to new implants, cost is a critical factor that needs to be considered. The total cost of dental implants can be broken into:
3D x-ray and diagnostic records 5%
Surgical Implant placement 45%
Surgical Implant uncover 5%
Implant Abutment 5%
Implant crown 40%
The price also varies based on different factors such as the number of implants needed, the type of implant used, and any additional procedures required. While costs might be high initially, opting for dental implants over other tooth replacement options may be more cost-effective in the long run. At iSmile Specialists, we understand the importance of affordable dental implant services and offer different financing options to ensure that patients receive high-quality care without breaking the bank.
iSmile Specialists has a cash price flat rate fee for dental implants including implant surgery, state-of-the-art 3D x-rays, abutment, and a crown.
This price does not reflect any additional type of dental procedures such as bone grafting, extractions, sinus lifting, or any upgrades such as a gold crown. If you have bone loss and need bone grafting the expenses will be higher.
---
Financing Options for Affordable Dental Implants in Houston
Affordable dental implants can be a significant investment for many people, but luckily, there are financing options available that can help make the procedure more accessible. Patients usually have 4 options to pay for their dental implants in Houston:
Dental Insurance coverage,
Dental office in-house financing,
Third-party financing plan, or
Discounted cash price.
1. Dental Insurance Coverage for Dental Implants
Most dental insurances in the PPO section offer some dental implant coverage. Based on your benefits, this coverage might range between $500 to $2500 AFTER your deductible and copayment. This will lower your out-of-pocket cost to as low as $1000 for a single dental implant. Make sure you have no missing tooth clause in your plan as this will prevent the insurance from providing any benefit toward the cost of your dental implant.
However, even with the missing tooth clause, sometime your insurance will pay for the implant crown. At iSmile Specialists, we will send a pre-determination letter to your insurance to verify coverage and payment.
If you are hesitant, please call us today and schedule an appointment with Dr. Samo at 281-249-9999. You will get a FREE implant consultation and we will verify your insurance benefits.
2. In-House Payment Plans.
If you have no dental insurance, some offices offer flexible financing options tailored to your budget and needs. Our in-house payment plans allow you to pay for your dental implants through installment payments directly with our clinic.
Don't let finances hold you back from achieving a beautiful and healthy smile – contact us today to discuss our various financing options!
3. Third-Party Financing Plans
if you have an acceptable credit score, then many financial insinuations would offer you a plan to finance your dental implants even with ZERO percent interest rate and payments as low as $99 per month. You can apply yourself with Care Credit, Lending Club, and others. These companies can offer you loans with term lengths ranging from 24 months to 84 months.
4. Discounted Cash Price
This is a good option if you have no dental Insurance. You can pay for this option with your credit card, FSA card, HSA card and Cash. Do we accept digital money like bitcoin? Not yet, but always ask us.
For a limited time, iSmile Specialist offers a cash price for dental implant Houston starting at $3,500 if you have healthy bones and gums.
---
 

If you need multiple implants then the price can range anywhere from $30,000 to $50,000.

Patients that need teeth replacement in the upper and lower jaw are subject to these types of prices.
Single Dental Implant Cost
For a limited time, iSmile Specialist offers implants starting at $3,000 if you have healthy bones and gums.
There are different types of dental implant options available with no hidden fees or surprises.
There is no extra charge for the 3D x-ray, abutment, and crown.
Consultations are always available for our patients.
Multiple Dental Implants cost
The cost of multiple implants is more than the base cost of just one implant.
So each extra implant is going to be an identical amount.
The total price will be based on the number of teeth you have missing.
During your consultation with Dr. Samo, he will evaluate you and give you a general breakdown of the needs of your particular case as well as the cost.
All-on-4® or All-on-6® Dental Implant Cost
All-on-4® is becoming a widely popular alternative to traditional full dentures, partial dentures, and even for just a single implant.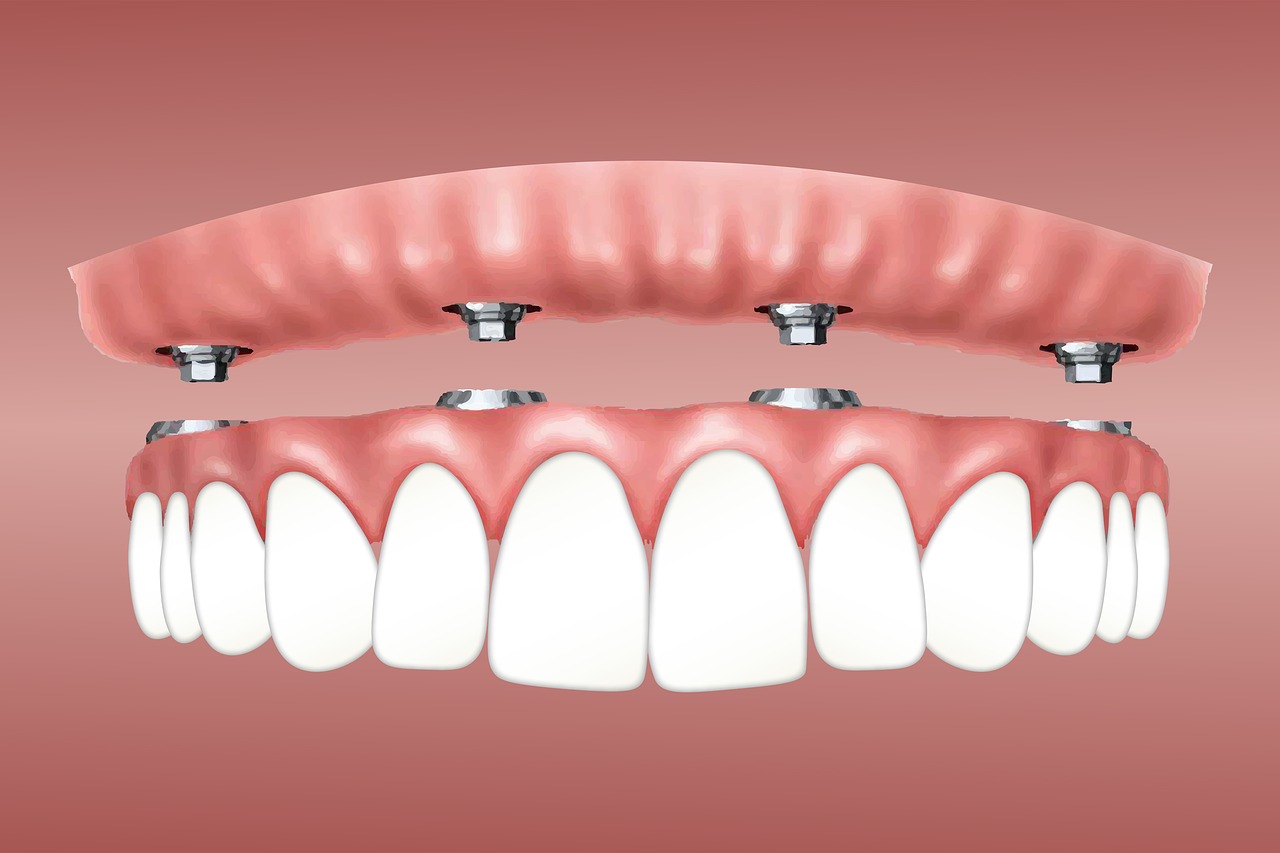 All-on-4® allows same-day placement for multiple teeth and can cost anywhere up to $30,000 to $50,000.
The cost varies based on the need for teeth extraction, bone grafting, sinus lifting, etc...
---
How To Choose a Dentist for My Implant?
Although some general dentists do place implants, always look for a cosmetic dental specialist like a prosthodontist or a periodontist.
They have at least an extra 3 years of advanced training for implant placement and restoration and usually, they offer the implants at the same price compared to general dentists.
Types of Dental Implants Available in Houston, TX
There are several dental implant manufacturers that are excellent.
The big names are Nobel, Biohorizons, Bicon, Straumann, Biomet 3i, Astra and Zimmer.
There are hundreds of "knock-off" manufacturers as well.
The key is to use implants that have a warranty and good research. Ask for at least a 3-year warranty.
Ask the dentist to share his/her previous work with you
Implant placement is a very sensitive cosmetic procedure that requires a lot of cosmetic training for optimum placement.
When placed incorrectly, the metal might show through the gum tissue causing a non-cosmetic appearance.
Dr. Samo will ensure that your implant will match your natural teeth and give you the best results possible!
---
Dr. Samo Dental Implant Cases
We are very proud of our work. Here are 4 different types of cases.
Dr. Samo is a pioneer in non-invasive implant placement in 10 minutes or less.
This will expedite the healing process and minimize the trauma after the surgery.
Case # 1 A single implant is designed to replace one or two teeth.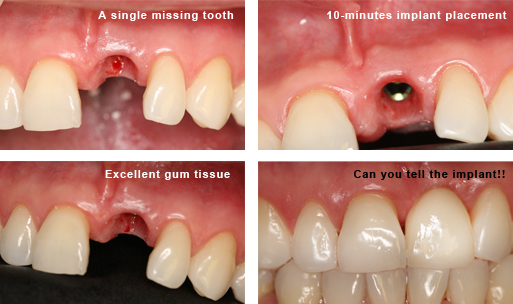 Case #2: Five missing teeth case
Here is a case where the patient needed both implants to work on the right side and cosmetic work on the left side.
Note the excellent results and how both sides blend together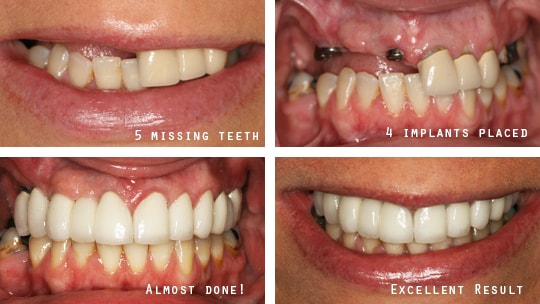 Case #3: Two missing teeth with the cosmetic challenge
Here is a case where the patient was missing two front teeth.
Dr. Samo made two custom white abutments to blend with adjacent teeth.
Can you tell the difference?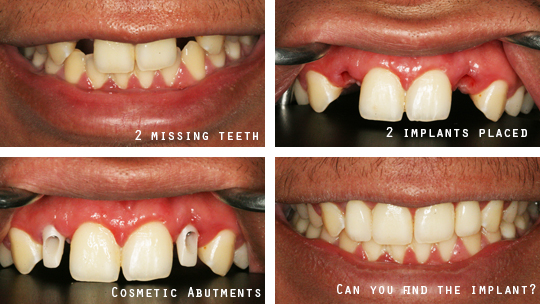 Case #4: Fourteen missing teeth
This case is for my mother-in-law and I cannot get this one wrong!
Excellent results from 360 degrees with 8 implants.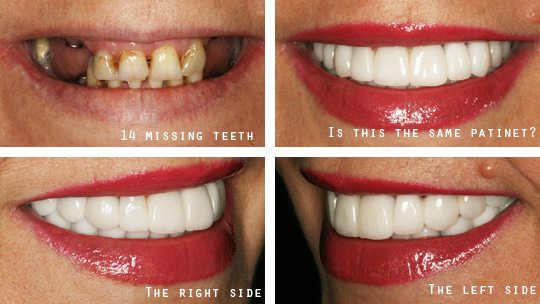 Please call us for more information and to set up a consultation with Dr. Samo.
---
Types of Dental Implants Available in Houston
When it comes to dental implants, there are several types based on the patient's situation.
1. Single Tooth Implants
Replacing a missing or a damaged tooth with a single-tooth implant is the easiest of the 3 types. The adjacent teeth will help to maintain the bone and gum tissue, making the dental procedure less complicated. The Implant would be placed in a single procedure ( less than 10 minutes), and after 4-5 months with successful osseointegration, the permanent crown would be placed
2. Multiple Tooth Implant
Replacing multiple missing teeth can be a daunting and an uncomfortable experience, but multiple tooth implants offer a more stable solution than traditional dentures. By placing two or more implants in the jawbone to support a dental bridge or denture, patients can enjoy better stability and durability. Implants can be made of different materials such as titanium, ceramic, or zirconia depending on the patient's budget and needs. The cost of multiple tooth implants in Houston may vary depending on the number of implants needed and the complexity of the procedure.
3. All-on-4/6 Implants
Replacing ALL teeth can be a challenging task, both physically and financially. Fortunately, All-on-4/6 implants offer an affordable and less invasive solution for a full mouth replacement of both upper and lower arch. By placing four or six implants in the jawbone and attaching a full arch of replacement teeth, All-on-4/6 implants provide a strong and stable foundation for your new teeth, allowing you to eat, speak, and smile with confidence. (REF)
For more information on All on 4/6, please check our other article (click here)
Please call us for more information and to set up a consultation with Dr. Samo.
We serve patients from all over Texas and Louisiana for their implant and cosmetic dentistry needs.

Full mouth five Implants treatment planning