Dental Crowns In Houston, TX | Porcelain Crowns
---
In many instances, a dental crown can become necessary for a person. This is a common and also beneficial dental procedure for anyone facing a possible tooth extraction. It is truly effective in treating a number of different dental issues. 
iSmile Specialists is one of the most distinguished providers for this dental treatment in Houston, TX. Call our dental office today to schedule a consultation @ 281-447-6453. 
Dental Crown
A dental crown is like a cap that goes over the enamel of a tooth that has suffered extensive damage or decay. Dentists will always prefer to use a crown to save your tooth as opposed to being extracted. 
They can also be used solely for cosmetic purposes to solve simple spacing issues and also are able to match discolored teeth to whiter teeth.
A dentist using a dental bridge may also include a crown to reinforce it make the bond between teeth stronger. Dental Implants also make perfect use of a porcelain crown to closely resemble your original teeth. 
What Are The Benefits?
Dental crown benefits:
Save teeth from having to be extracted 
Can match the appearance of your natural teeth
Stain-resistant and low-maintenance
Can improve aesthetics for dental cosmetic purposes 
What Are The Types?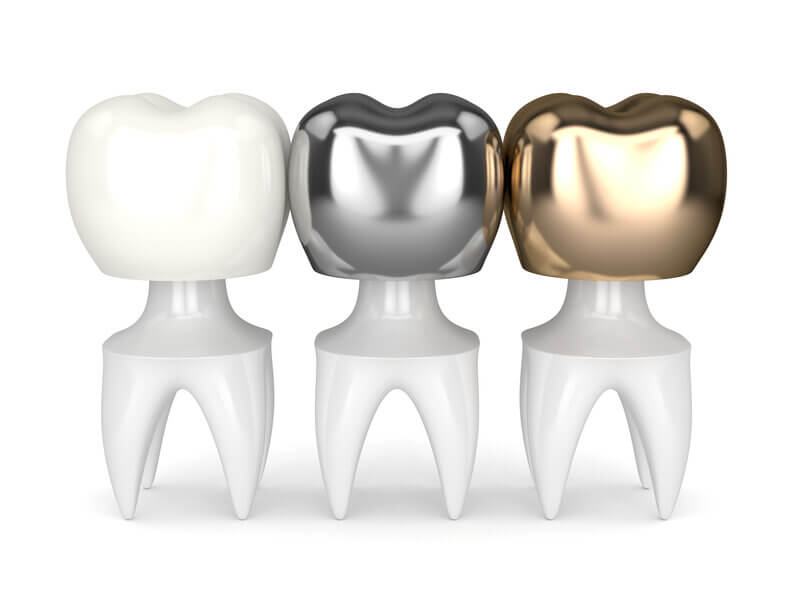 Dental crowns have been around for a very long time. In the past, they were made entirely of gold or wood. Tooth crowns that are placed today are made of strong materials like porcelain or composite resin. 

Common types and costs of material used include: 
Porcelain Ceramic Dental Crowns (price range: $800 - $2,000)

Porcelain crowns have the ability to closely match your original teeth. This is a highly preferred choice for many dentists. The material allows a dentist to replicate the natural appearance of any tooth being replaced. Porcelain material also offers lasting protection because it is very solid and sturdy.

Metal & Gold Crowns  (price range: $700-$2,500)

Metal crowns are can be made up of a variety of different metals such as Gold, Copper, and Nickle. These metal-based crowns can offer any tooth powerful protection. The only disadvantage is that the metal appearance is obvious and stands out. For this reason, they are often used on less visible teeth such as your back molars.

Resin Crowns (price range: $300 - $500)

Resin Dental Crowns are a less expensive option, but not without disadvantages. The composite material does great at blending in with your teeth, but it is not as resistant to wear over time. These crowns will not last as long as porcelain crowns. 

Porcelain fused to metal crowns (price range: $650 - $1500)

The mixture of porcelain with metal increases the strength of the crown substantially. It is far less likely to crack and will stand the test of time. These crowns are noticeably more affordable than porcelain ceramic crowns. They are a great option for anyone on a budget.
Metal crowns are usually more common among kids and are used to cover baby teeth that have been damaged. Porcelain-fused metal is most noticeably durable because of the porcelain-infused metal material.
Which Crown Is Better For Front Teeth?
The porcelain material closely mimics how light reflects on your natural teeth. The color can also replicate the shades of neighboring teeth as close as possible. This makes them the best solution when replacing front teeth that are visible. Porcelain dental crowns are also hard-wearing and stain-free. 
What Are Zirconia Crowns?
Modern advances in dentistry have made Zirconia crowns a bio-compatible option for many patients. Zirconia is a material that works with your body's immune system. This is an ideal choice for anyone that may experience inflammation with other types of materials in crowns. Zirconia is also relatively sturdy and resistant to wear compared to other crowns.
How Much Does A Dental Crown Cost?
Dental crowns cost an average of about $800 - $1,500 in the Houston metro area. These prices will be determined depending on the difficulty of the procedure. The type of material used is also a contributing factor in the final price. 
Does Dental Insurance Help Pay For Dental Crowns?
Your insurance company will help determine what expenses will be taken care of. This dental treatment option is normally fully or partially covered. Delta Dental Plus plans cover about 50% of the procedure for in-network providers.  iSmile Specialists also offers a useful variety of different financing options. 
When Does A Dental Crown Become Necessary?
There are a number of reasons a tooth needs to be crowned:
A root canal is performed on a tooth and the tooth structure needs to be preserved
A tooth is heavily decayed and a filling is not enough to cover the tooth
A fractured or chipped tooth
Restoration for a dental implant
Dental Crown Procedure
Normally, undergoing this process requires at least two dental visits. The cosmetic dentist will closely examine your teeth and take a series of X-rays of your teeth.
After determining if there are any preliminary preparations needed then the doctor will decide whether or not to proceed with the dental crown. 
An impression of your tooth will first be taken in order to create a perfect replica of it. 
A root canal is usually performed before the crown is placed if severe tooth decay or an infection is present. Root canals can leave your teeth more fragile that is why a crown is needed to protect them from breaking or chipping.
During the root canal, all the infections and bacteria are removed then the tooth will be prepared. A local anesthetic will be applied and the tooth will be shaved down to a base where the crown will be placed. 
The impression taken will be sent to a lab so that the permanent dental crown can be made. During this process, the dentist will create a temporary crown in order to protect your tooth until the permanent one is placed.
The temporary crown may not closely match the color of your tooth but your permanent crown will closely resemble and match your natural tooth exactly.  

---