Can Invisalign Fix Open Bite?

Anterior open bite correction with Invisalign

You are here because you do not like your open bite and you do not like braces. You want to correct the open bite with Invisalign but your dentist/orthodontist told you that you are not a candidate for Invisalign clear aligners. 
In this article, I will share how to correct open bites with Invisalign. I will also share some actual cases that were corrected with Invisalign.
---
Can Invisalign fix an anterior open bite? 

When Invisalign was introduced in 1997, open bite cases were not recommended to get treated with Invisalign. Only moderate teeth straightening was possible in the past using Invisalign for orthodontic treatment. 
Invisalign is now capable of correcting the anterior open bite. With the advancement of Invisalign technology came a better understanding of different treatment options. Modified Invisalign trays can now direct forces in a more favorable direction to proper positions.
This was first reported in 2010 by Schupp et al where they successfully treated 2 open bite cases with Invisalign (REF). 
However, this should not be mixed with the harder cases of posterior Open Bite. Invisalign might not be the best option to correct these dental issues.
Always make sure you consult an experienced orthodontist for your open bite case. Dr. Kanaan always offer a FREE consult for Invisalign cases 281-249-9999 
---
How to correct an open bite with Invisalign 
Your experienced orthodontist needs to program and design the Invisalign trays to do ALL the following: 
Extrude the anterior teeth. Make sure you consider the smile line to determine how much the upper and the lower teeth need to be extruded. Over extruding the upper teeth can cause the unwanted ugly side effect of a gummy smile.
Intrude the posterior teeth. The Invisalign tray thickness will help to achieve at least 0.5 mm of posterior intrusion. We also might need to remove the wisdom teeth in cases of early contact.
If a more posterior intrusion is needed to prevent gummy smile development, two mini-implants might be needed in the upper posterior area to help to intrude the posterior occlusion (REF).
The use of rubber bands to induce a counterclockwise mandibular rotation[iii]. 
IPR might be needed if a tooth-size discrepancy exists. This requires careful measurement of existing basal bone. 
---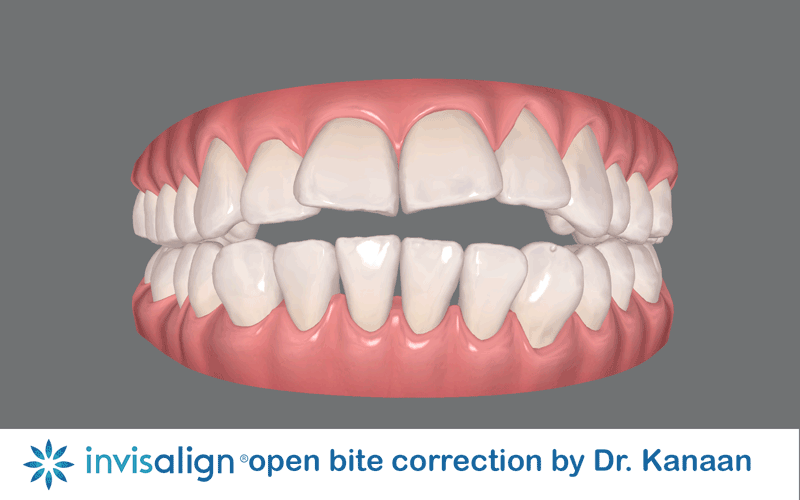 Invisalign for Open Bite before and after 

---
How long does it take for open bite correction with Invisalign?
This depends on the age of the patient and how big the open bite is:
For adult patients with moderate open bite "2-3 mm", it will take between 18-24 months
For growing patients with moderate open bite " 2-3 mm", it will take between 12-18 months
Please note that Dr. Kanaan will divide your Invisalign treatment into stages. This technique is better to make sure your teeth are responding to the programmed trays with no delays. 
---
How many clear aligners are needed to fix the anterior open bite?
Research has shown that on average 73 aligners are needed to get the open bite corrected (REF). This is only an average as the precise number of aligners might range from 40 trays to 100 trays. 
What are the advantages of using Invisalign over braces to close the Anterior open bite?
Better vertical control. Traditional braces tend to have an extrusive effect on the back molars. This side effect is better controlled with the Invisalign since each tray has a minimum thickness of 0.5 mm, 
Less root resorption. Correcting anterior open bites might be associated with various degrees of root resorption. Because the Invisalign trays are removable, this will give the front teeth some break to relax and minimize the chances of getting root resorption.
Control bad habits that might contribute to the open bite such as thumb sucking and tongue thrust.
---
Surgical/Invisalign open bite correction. 
In extreme cases, surgery might be the only option to get the open bite corrected. In order for the oral surgeon to correct the open bite perfectly, teeth needed to be straight and aligned. This is usually accomplished with a period of braces treatment before the surgery.
With Dr. Kanaan, you also have the option to use Invisalign, rather than braces, before the surgery. Digital simulation, will give you the benefit of making sure the teeth will fit perfectly after the surgery. Below is a case that was treated with both Invisalign and surgery. The case was treated with braces before and surgery was preferred due to gingival recession.
Watch the power of combining surgery with Invisalign to correct a severe anterior open bite. Braces was required to be placed right before surgery for 1 month. Treatment completed by Dr. Kanaan
More Orthodontic Services