How To Find The Best Dentists In Sugar Land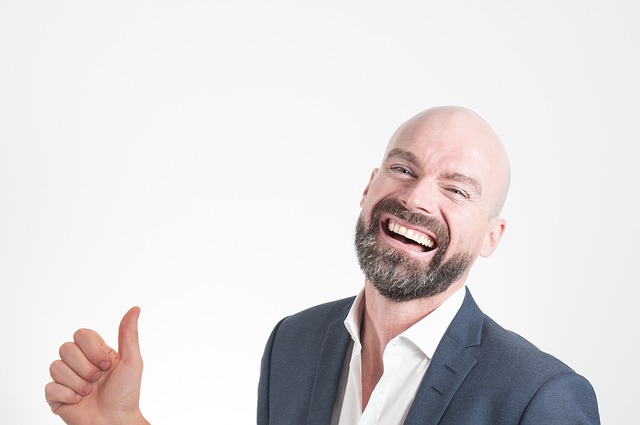 Chances are you've probably heard someone express they are absolutely terrified of going to the dentist. Generally, when a person has a terrible experience with a dentist in the past, it sometimes causes them to relate to that specific event with every other dentist. 
This fear causes people to have anxiety about even looking for a dentist. Waiting to get a dental check-up can make a simple problem lead to something serious like gum disease or require you to have root canals instead of fillings.
Fort Bend County has many dentists and you need to know how to pick the right one. Looking for the right preventive care for your teeth can be easy. Doing extensive research on a dentist can assist you in finding important and useful information that can help in putting your mind at ease.
This article will demonstrate exactly what to look for when searching for dentists in your area. 

Steps You Can Take to Find A High-Quality Dentist 
In the past, the only possibility of finding a reputable dentist was through word of mouth. In our modern times, things have been altered drastically. The current age of technology has made finding services with personalized reviews an actual possibility. 
The concrete truth is there are many more trusted dentists than anything out there. For the most part, dentists strive to keep a good reputation with their patients. 
The best dentists will provide top tier services and make an effort to build lasting relationships. Patient comfort and happiness levels can be increased by offering high-quality dental care using the latest state of the art equipment. Looking for these kinds of positive remarks from a patient is a great sign.
Online reviews such as the ones on Google can very well influence potential customers to make a final decision. 
Usually, dentists will receive multiple reviews from more than one place online. Companies like the BBB ( Better Business Bureau) allow customers or in this case patients to post complaints and leave reviews on the site. 
Here are some steps you can take when looking for a dentist on Google: 
The first step is to type in keywords such as "dentists near me" or "dentist in sugar land, TX" to find a list of dental services closest to your area. Usually, towards the top of the page, you will see dental offices that are available near you along with a map.
Look for the orange stars below the name of the business. The ratings of the business are measured on a scale from 1 - 5 stars. 

 

Clicking on the business will open another page in a new window. Then it will generate all the nearby businesses and on the right side, it will show a more detailed view. 
Click on where it says google reviews then a pop-up window will appear showing the actual detailed reviews left by previous patients. Most people provide truthful feedback that can be very beneficial in assisting you to make the best decision.

 
How To Use Google Reviews To Find The Best Dentist
If you see a negative review it does not automatically mean that the dentist is bad. 
The key is to look for some consistency. For example, when you see 10 positive reviews then you come across a poor one on the office staff, it does not automatically mean the dentist is questionable. 
One negative review could be family dentistry trying to discredit general dentistry for their own personal gain. It could also be an actual patient that wrote the review out of anger because the dentist's office did not perform to their expectations. 
However, if you see a patient saying they were dissatisfied with their teeth whitening and then another patient saying right after they had problems with dental implants, then the reviews are more consistent. 
If this is the case then you should definitely try and find other places online that have reviewed this particular dentist and see if you find a pattern.  
How Can I Know What Dentist Reviews I Can Trust?
A good indicator that a person is a trustworthy source is to look at each person's individual reviews. In the pop-up window that has the user reviews, you will see the name of the reviewer and a picture if they have uploaded one.
Right under the name, you will see the overall number of reviews. Click on these reviews and studying them closely. Knowing what to look for will help you decipher a fake review from a real one.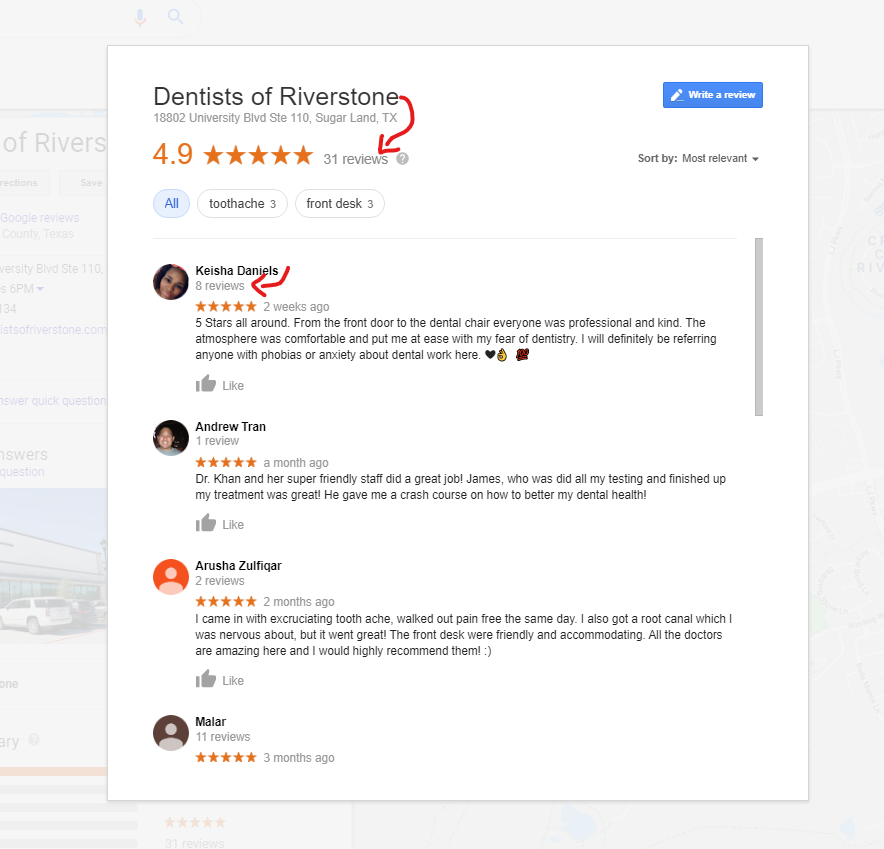 Having only one single written review increases the odds that the profile is not real. Sometimes the person won't even bother adding a picture to their google profile. Grammatical errors can also be signs of an untrustworthy person. The only possible purpose of this profile being created was to write a negative review. 
Consistent multiple reviews that contain variations are a great sign they can be trusted. A good mixture of well written positive and negative reviews is also ideal.

Which is the best dental clinic in Sugar Land, TX?
Using the knowledge you gained in this article you will be able to determine the best sugar land dental office. iSmile Specialists has 4.9 Star Rating on google with plenty of consistent reviews. Don't take our word for it though! You can do the research yourself now! 
iSmile Specialists is the best cosmetic dentistry and also offers the best orthodontic services for anyone in Sugar Land.
Please call us for more information. 
Some of our services include: