5 Texas-Based Dentistry News Stories Worth Smiling About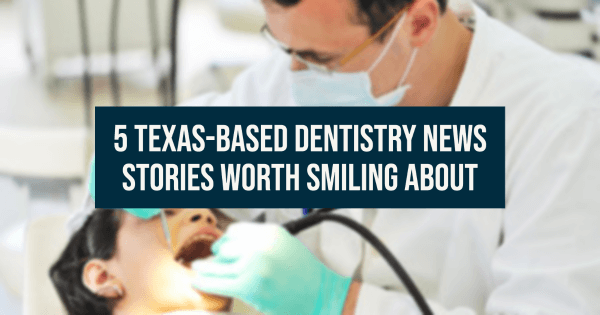 Routine dental care is critically important. Regular checkups prevent cavities and gum disease as well as complications and systemic health problems that can arise from a lack of dental hygiene.
So why do so many Americans put off dental care? On average, only 52.3% of adults visit the dentist every six months, 15.4% go to the dentist once a year, and 11% scheduled dental appointments once every two or three years.

Anxiety may be one of the top reasons patients forgo necessary dental care. According to the National Institutes of Health (NIH), the fear of the dentist is one of the top five phobias or anxieties, affecting up to 25% of all patients.
Thankfully, compassionate and helpful dentists understand that fears often come into play, and many go out of their way to put their patients at ease.

If you suffer from dental anxiety, talk to your dentist. He or she may be able to make you more comfortable by offering different treatment options, playing music or a movie during your treatment, or by establishing a system to clearly let them know should you need a break.
For example, many patients will raise their hands if drilling becomes too much.
Now, with even greater uncertainties and anxieties coming out of the woodwork due to COVID-19, dentists are being more understanding and accommodating than ever before.
If you have any questions or concerns about going to the dentist -- whether they are concerns about COVID-19 and safety precautions, concerns about affordability, or age-old concerns about dental procedures and related anxieties -- dentists are here to help.

Read about some of the most helpful dentists in Texas in the heart-warming stories below.
 
The Importance of Receiving Safe, Reliable, and Affordable Dental Care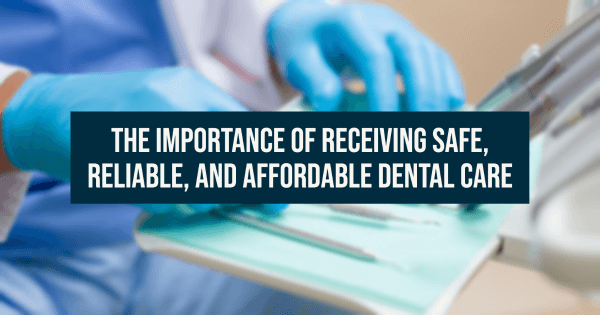 Before getting into the thick of it, it is important to understand why it is so critical for patients to overcome any worries and fears about seeing the dentist.
Dental care isn't just about aesthetics. Here are some reasons why affordable and safe dental care is important for everyone.

Your smile affects your self-esteem. Good dental health isn't just about looks. Yellow, stained, or misaligned teeth can take a toll on your self-confidence, ultimately affecting your romantic relationships and even future job prospects. Talk to your dentist about your options and the steps you can take to get your confidence back.

A healthy mouth is important to enjoy meals and everyday activities. It is difficult to enjoy coffee with a friend when your teeth are sensitive to extremely hot or cold beverages. Similarly, if your tooth is loose, eating foods like raw carrots and corn on the cob is out of the question.
Going about your day-to-day life with an impacted wisdom tooth can be all-but-impossible. Reliable and affordable care keeps you healthy and gives you the freedom to enjoy meals again.

Regular dental checkups can help predict serious health problems. Your dental health and oral hygiene "offer clues about your overall health," according to the Mayo Clinic.
During routine examinations, dentists may discover telltale signs of diabetes, acid reflux, vitamin deficiencies, tooth grinding, heart problems, oral cancers, and even dementia.
Good dental and oral hygiene prevent disease and complications. Compassionate, helpful dentists are not simply looking out for their own welfare -- they're looking out for yours, too. Regular dental visits prevent periodontitis and other infections.
By preventing these infections, you also stave off any diseases or complications that may arise from them -- diseases like asthma, coronary artery disease, stroke, and respiratory problems.

Dental hygiene is important for your confidence, comfort, and overall health. If you cannot afford reliable dental care, explore your options for low-cost or free treatment. If you receive a bill that is much higher and much more cost-prohibitive than you expected, don't panic.
Talk to your insurance company and/or an insurance attorney about that particular claim.
Going Above and Beyond: North Texas Dentistry Donates Food to Needy
Dentists from North Texas's MINT Dentistry are redefining the meaning of a helpful dentist. In addition to extending the usual comforts to their patients, MINT Dentistry dentists are teaming up with their staff and local volunteers to ensure that anyone in need due to COVID-19 does not go without.

Staff is contributing by taking part in meal preparation. Specifically, packing boxes full of food are handed out to those lined up waiting for food in their cars. "Through the past nine weeks of grocery giveaways, the dentistry has provided 4,000 boxes of groceries, or 84,000 meals, during this pandemic. Each box containing a week's worth of food," NBC DFW writes.

In addition to providing meals, MINT is proud to be hiring during this financially trying time. Qualified individuals can apply to fill one of the practice's 53 job openings with positions ranging from secretarial, scheduling, and billing duties to registered dental hygienists (RDH) and registered dental assistants (RDAs).
For MINT Dentistry, extra treatment options for anxious patients is not enough. Amid COVID-19, they are doing whatever they can to feed the hungry and to provide jobs to those who may be out of work.
The Undeniable Benefits Of Teledentistry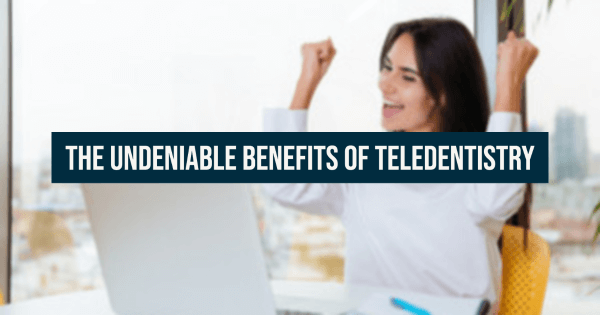 A helpful dentist is one who is the most flexible and accommodating, especially in trying or difficult times. That is exactly what Forest Family Dentistry and other Texas dental practices are pushing for.

During this time, dentists are calling for advanced health care directives, namely ones that allow dentists to bill insurance companies or providers for virtual or teledentistry services.

What exactly is teledentistry, and why is it a service worth providing and insuring during the global pandemic?
Teledentistry enables patients to meet with a dentist virtually, and the only requirement to do it is an internet connection from a trusted internet provider. Using teledentistry, patients can transfer dental records, consult with a dentist, and, at times, receive a diagnosis and/or take the initial steps to map out and begin a treatment plan.
Teledentistry improves access to dental care, increases patients' comfort, and, in some cases, it can be significantly more affordable.

Specifically, in Texas and amid the global pandemic, "The use of telehealth technology has not only been shown to increase access to care, but currently, as social distancing continues, telehealth is a tool that can be used to eliminate possible exposure to Covid 19 by live video consults, triaging, and advanced communications with patients," Doctor of Dental Surgery (DDS), Leanne Tessandori, writes in a petition to Governor Greg Abbott.

Over 3,000 dentists in Texas have signed the petition. If granted, the motion will give patients greater access to dental care, help prevent the transmission of COVID-19, help conserve valuable personal protective equipment (PPE), save money, and ensure employees can keep their jobs during this time.

A helpful dentist is a dentist who is looking out for the welfare and well-being of everyone. Texas dentists are doing just that by urging the governor to clearly define teledentistry services and allow patients to use insurance to pay for them.
Even During the COVID-19 Pandemic, the Dentist Office Is One of the Safest Places to Be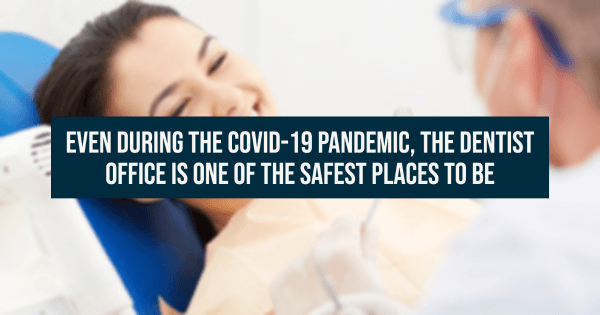 The most helpful dentists understand the anxiety and fear surrounding dental procedures. Now, these same dentists understand that patients may be hesitant to visit the dentist during a global pandemic, and they are going the extra mile to ease patients' minds.

It is important to know that, even before the brunt of the coronavirus hit, dental clinics were among the safest and most sanitary places to be. Dentists already wore personal protective equipment (PPE), like gloves, safety glasses or face shields, and masks. Thorough sanitation and daily cleaning service were already part of their routines.

In recent months, dentists have been even more meticulous and painstaking about cleaning and sanitizing measures. Doctor Brad Boeke based in North Texas, for example, "added an aerosol disinfectant fogger to his cleaning regimen," ABC News writes. This extra measure thoroughly cleans and disinfects equipment small and large, including anything from trays to scalers -- a small, precise tool that makes it look as if the dentist or dental hygienist is power washing your teeth.
Additionally, North Texas dentists are screening patients before appointments. All patients must confirm that they are not experiencing COVID-19 symptoms, have not been exposed to the coronavirus, and they must pass a temperature check.
With these extra measures in place, just how safe is the average dental practice right now? "I would tell you there is no safer place to go, other than an operating room than a dental office," Boeke tells ABC News.

Routine dental care is important for overall health. The most helpful dentists know this, and they are going out of their way to make sure patients feel comfortable enough to get the care they need. The American Dental Association (ADA) strongly urges patients to continue seeking dental treatments, describing dental visits as essential.
San Antonio Dental Offices Prioritize Cleanliness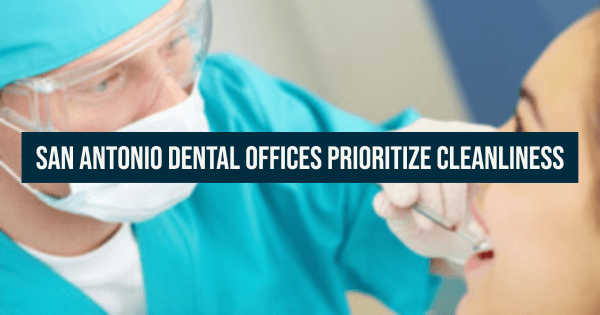 The American Dental Association (ADA) spoke out against the World Health Organization's (WHO) recommendation to delay dental care during the pandemic. As previously stated, the ADA reaffirmed that general dentistry services are necessary and safe and may have a direct impact on patients' overall health. What is the final word?

In other areas, it is possible to make accommodations during the pandemic. For example, instead of eating inside a restaurant, you can order pizza online, ask for contactless delivery, and grab your food without ever interacting with another person. Barring consultations that can take place entirely online, most dental appointments require in-person interactions. The ADA and dental practices reaffirm that that does not necessarily make them unsafe. In fact, San Antonio dental practices are going above and beyond to prioritize cleanliness.

Dental hygienist Denise Martinez tells ABC News, "We sterilize, clean, and disinfect after every patient. We are always gloved, we are always gowned, and we are always wearing masks."

In addition to these routine measures, San Antonio practices are also introducing new ones. To keep patients safe during COVID-19, many practices have switched to more effective N-95 masks in lieu of standard, surgical masks, staff are wearing face shields, and dentists are using air purifiers that filter bacteria, germs, and aerosols out of the air their employees and patients breathe.

Dental hygienist Ryan Martin reminds patients that dental offices are dramatically cleaner than other establishments that remain open at this time, like restaurants.
Texas Dentist Stumbles Upon Safer Tool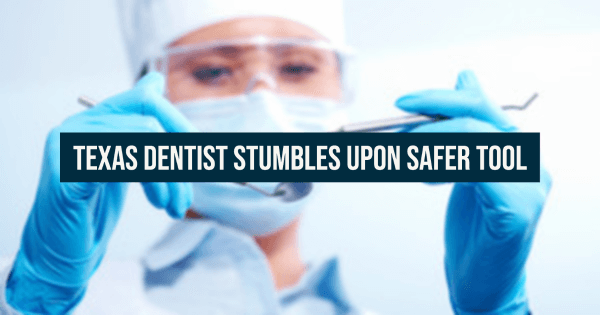 Helpful dentists take extra steps to make their patients happy, comfortable, and safe, and that describes Frisco, Texas-based dentist Dunia Korous to a T.
Korus prides herself on establishing a good rapport with her clients. For example, she forgoes the traditional stiff white coat for laidback and conversation-starting alternatives, like bright pink.
Most significantly, Korous recently swapped out metal dental tools that come in direct contact with teeth for a Solea laser. Korus originally purchased the laser to help ease the anxiety and fears of patients in her dental office.
The laser does not directly touch the tooth, it does not apply pressure, and it does not make any unsettling whirring or drilling sounds. It turns out it is safer to use, too.

Traditional dental tools that spin or vibrate have the potential to increase the presence of droplets and aerosols -- as well as spread them. Left unchecked, this can potentially increase the transmission of disease and infection, like COVID-19. "Dr. Phillip Huang of Dallas County Health and Human Services said it could also be potentially dangerous since some of these small particles can float around in the air for a long time," ABC News writes.

The Solea laser, on the other hand, decreases spray and aerosols by as much as 90% and uses 67 to 83% less water, making it a much safer treatment option. By projecting significantly fewer droplets into the air, these procedures are cleaner, safer, and help prevent the transmission of COVID-19 and other airborne infections.

Helpful dentists know that affordable, reliable, and quality dental care is a must -- even now, during the global pandemic. That is why the best dentists are going out of their way to give back to the local community, support local job markets, prioritize cleaning and sanitation, and to use tools that dramatically reduce the spread of COVID-19.